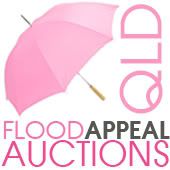 has started the ball rolling on fund raising auctions for the Flood Relief.
There are going to be lots of auctions happening in blogland,
all fundraising for those people who are suffering such heartache and loss at the moment.
Jodie at
ric rac
is running a raffle-style fundraiser,
an idea which I love as it gives people more opportunity to take part
if they can't afford to donate a lot
plus I think there is potential to raise a lot of money.
So I hope that she doesn't mind if I follow her lead.

I am giving this Keyka Lou small Pixie bag away, postage included,
to a random winner .
The body of the bag is approximately 25 x 22 cm in size.


Also included is an Olivia clutch designed by Ali Foster
(approximately 27 x 16cm)
Both made with American quality quilting cottons.
The raffle closes at midnight on 26th January, 2011.
(I may be unable to access a computer until the 29th January in which case
the winner will be announced then)
Please make a minimum $5 donation to the
Premier's Flood Relief Appeal
then return here and leave a comment with your receipt number.
You can enter as many times as you like
but each entry will require an individual receipt number.
I will post anywhere in the world.