In what I promise will be my last holiday post.
Truly.
Part of the reason for freezing our little tooshies off on this holiday
was that there was one requirement: show our kids snow.
In my procrastination, I did too little homework before leaving for our holiday
and merrily booked into Cradle Mountain
thinking there would be snow.
And there was.
But more by accident-of-Mother-Nature
than by good management or organisation.
There was unprecedented snowfall in the area.
My parents had reported how cold it was
and how many thermal singlets we'd need to pack.
Many roads -including one that we usually travelled on to their home-
were closing here and there due to snowy conditions.
Fishing was halted.
Storms were causing blackouts.
We had to change our travel plans due to road closures
and spent an hour driving a snowy road very slowly,
finding out later that the road was closed soon after.
The kids loved it.
(while I was quietly shitting myself, thinking that 30-40kph was way too fast to be driving on a snowy highway)
Doing all the things that you do in the snow...
Making snow angels;
making snowmen, snowballs, snow dogs, snow birds, snow anything really;
walking in the snow;
clambering in snowdrifts till gumboots filled up with snow
and 6 year old feet went numb,
trudging through snow storms backwards with our eyes closed.

And loving every single minute.
These are the tourist promotional snaps of Dove Lake, Cradle Mountain, that I am used to seeing.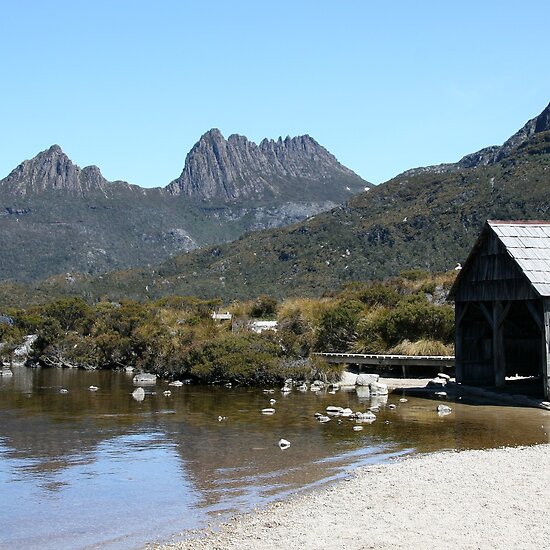 This was our view...
After the snowing stopped later on,
we did catch a glimpse of the mountain for a second or two.
Two days later,
the car even started and we got out miraculously without a tow.
Cradle Mountain Lake St Clair National park is part of a World Heritage area.
We are looking forward to going back,
perhaps when it looks like the tourist snaps,
once the kids are a bit older,
so that we can do some decent bushwalks and other activities on offer.