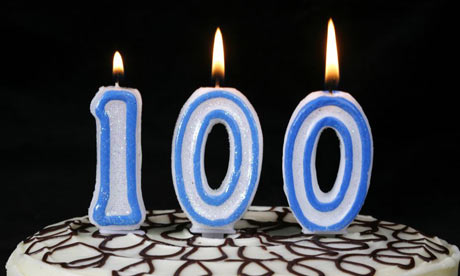 (guardian.co.uk)
Followers, that is.
Now how did that happen?
Gradually, over the past couple of years
I have attracted 100 people who apparently want to read what I say
or read about what I am doing.
Go figure.

I will admit that #100 was a ring-in.
Mr Boozle has steered clear of my blog
as I have apparently made him feel unwelcome
but his resolve has waned.
Mainly because he knows that he gets mentioned now and then
and I reckon that he wants to be able to complain to the editor as necessary
or initiate a defamation lawsuit.

So, quickly, before I lose any of those 100 followers
(as happens along the bloggy yellow brick road now and then)
I am having a giveaway.
You don't have to be a follower of my blog to enter.
But if you are here because you have googled
"freebie"
or "
competition"
or "
giveaway"
or
"meat tray",
then go away now.
Don't comment because you won't win.
If I don't recognise you
or you aren't an established follower
or have a blog,
then sod off.
My most frequently hit blog post was a giveaway one
(though Elle Macpherson is giving it a run for its money.
I do have a little giggle at people stalking Elle who end up at
my blog post
)
It was the end of my idealistic beliefs (= naivety) to find that people out there just
stalk the giveaways.
If you are a regular reader or a quiet follower,
feel free to say "hi".
I will post out something to the winner depending on their interests and tastes.
How to win?
Leave a comment telling me your qualifications...
For example,
"I have followed your blog for ever. I too covet gorgeous fabric.
Yes, coffee makes the world go round.
Geeze, your cats suck.
I also adore Audrey Hepburn and John Barrowman"
would definately get you an entry.
However "I have no idea who you are but I am a political fanatic from Kyrgystan
who would love to discuss the health merits of tofu with you once
I enter the 2678 competitions that I found by googling
giveaway
today"
will have me hitting that "delete" button right after I hit the "block" one.
Just show me that you know something about me or my blog.
(Preferably something nice but I promise I wont lick your prize before I post it
if you win after a critical comment)
I will post anywhere
and will pick a winner randomly
sometime in the near future.
Oh, and Mr Boozle, you can't enter.
PS Thank you, 100 fabulous people. I appreciate the time you take
to be part of my world.